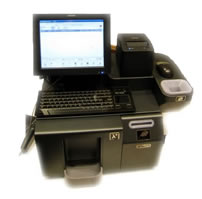 New Cashlogy
CASHLOGY are less likely to make mistakes when taking money and returning change than a cashier.

Payment on CASHLOGY can be accepted by cash via coin slot and bank note scanner, the scanner detects fake notes. This is the latest generation of theft-preventing sales systems

CASHLOGY has an attractive design, are easy to operate and provides optimum theft protection. Choosing the right coin acceptors or euro bill validators will help prevent fraud by ensuring honest purchases.

This system is easy to use for store employees and dispenser can be conveniently refilled [+] ...


---

What is Windows Azure?
Windows Azure helps developers build, host and scale web applications through Microsoft datacenters.
In this way you only need to focus on what you do best - development!
Why use Windows Azure?
No need to buy servers to infrastructure management.
Automated service management shields you from hardware failure and routine maintenance
Use your existing skills with the .NET framework or non-Microsoft languages such as Java, PHP and Ruby to build compelling applications ...
---

Delivering low cost productivity
Office 365 is the next generation of Microsoft ground breaking Business Online Productivity Suite (BPOS) platform. Building on the 99.9% availability SLA, low cost and outstanding features, Office 365 delivers the latest Microsoft products to customers of all sizes. With the inclusion of Microsoft's leading Office suite and innovative licensing benefits, Office 365 has the potential to reduce cost and improve communication and collaboration in your organisation
...